I am a huge fan of food. I'm also a fan of planning out our family meals and ensuring that we avoid foods that could impact the quality of our sleep. With two growing boys in the house, it's also important for me to include snacks in my meal planning process.  My family is currently addicted to this super simple, nut free granola bar recipe.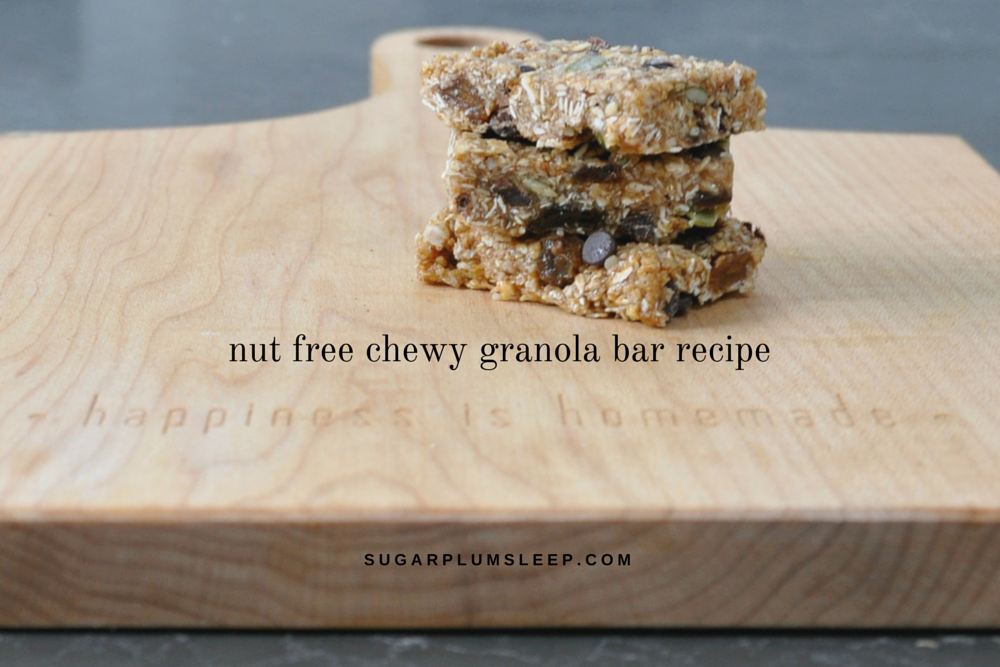 Despite attempting a tonne of different granola bar recipes I found, I just couldn't find something that met all of my requirements: nut free; no bake; chewy and easy to adjust ingredients. Inspired by Holistic Nutritionist Arja Pennanen Lytle's Granola Ball recipe,  I'm happy to share my version for a nut free chewy granola bar. My family is addicted to these bars and they are perfect for breakfast, a snack or even as a desert. These bars are also packed with protein, fibre and healthy fats to help balance blood sugar.   Pennanen Lytle notes that balanced blood sugar helps to manage hunger, regulate mood and contribute to more restful sleep. No wonder I love this snack!
Nut Free Granola Bar Recipe
Ingredients
2 cups of quick cooking oats
1 cup of unsweetened shredded coconut
1/2 cup dried fruit such as raisins, cranberries or cherries
1/4 cup of hemp seeds
1/2 cup of raw pumpkin seeds
1/2 cup of mini chocolate chips
1 teaspoon of cinnamon
3/4 cup of brown rice syrup
1/2 cup of seed or soy butter (sunflower seed or soy butter work well, though you can also opt to use a nut butter)
1 tablespoon of maple syrup (optional)
Directions
Mix all ingredients throughly and spread into an un-greased 9×11 baking dish. Refrigerate for 1 hour and then slice into squares or rectangles.
Additional Tips
You can make this a gluten free recipe by using gluten free oats
You can make this a dairy free option by using dairy free chocolate chips.
Mixing this with a spoon is a waste of time. I suggest digging in with your hands to ensure the ingredients are throughly mixed.
I'd love to know what you think and what substitutions you have made to make this recipe work for your family.