Long days, long commutes and after school activities can create mealtime chaos. Later meals usually leads to later bedtimes, tired kids and cranky parents. Meal planning is a great way to save time at the end of the day, but don't forget about using your leftovers wisely. It's winter here in Toronto and that means I'm gravitating towards warm and hearty one-dish meals. I'm sharing another go-to 3 Night Meal Plan using pork tenderloin leftovers that relies on very little prep and very few ingredients.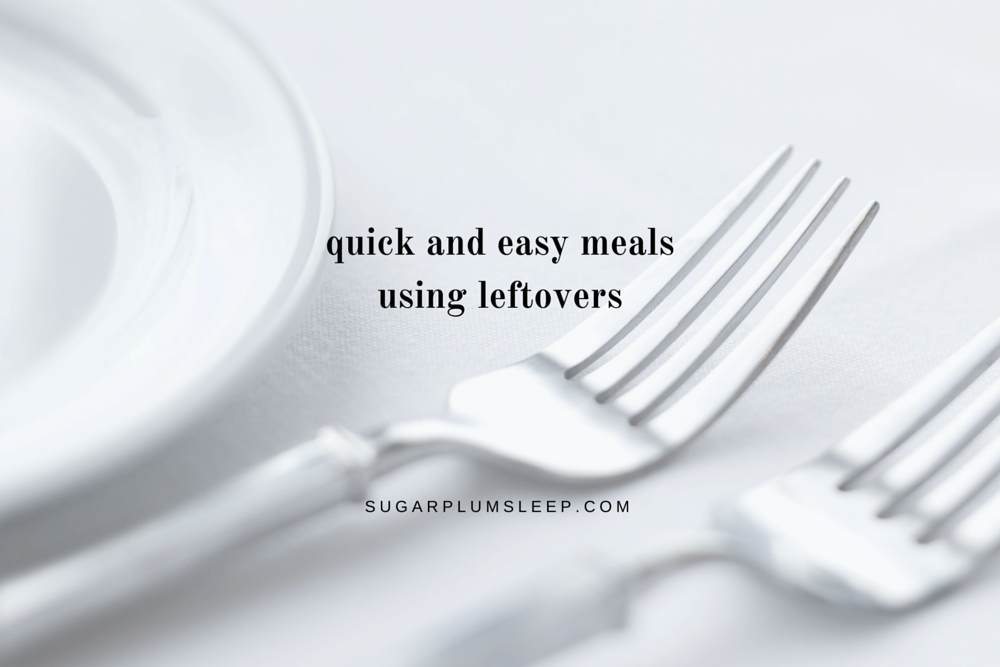 3 Night Meal Plan Using Pork Tenderloin Leftovers
Day 1: Pork Tenderloin Dinner
Pork tenderloin is quick and easy to make. I often buy portions that are already marinated with dijon and rosemary from my local butcher, but you can season it however you like. It's great on the BBQ or roasted in the oven. I am also currently obsessed with sweet potatoes, Brussel sprouts and roasted or steamed cauliflower as sides for this dish.
Pork Tenderloin
Ingredients:
3 pork tenderloins (1 lb each)
1/2 cup olive oil
1/4 cup dijon mustard
2 tbsp of dried rosemary
3 cloves of garlic, minced
2 tsp salt
1 tsp freshly cracked pepper
additional salt and pepper to taste
Directions:
Thaw tenderloins completely.
Prepare marinade by mixing mustard, garlic, olive oil, rosemary and salt. Coat tenderloins with marinade and refrigerate for 1-2 hours.
Preheat oven to 400 degrees F.
Sear on all sides until golden brown and transfer to the oven to roast for 15 minutes or until meat registers 165 degrees F.
Transfer meat to plate and cover with aluminum foil. Allow tenderloins to rest for 10 minutes and then carve in 1/2 inch slices.
Sweet Potatoes
My kids continue to enthusiastically accept my invitations to help in the kitchen. Peeling apples and potatoes has become a fascinating challenge for them. This means that prep time can take a little longer. If you still want to involve your kids consider peeling the potatoes in advance and then slicing the sweet potato into 1/2 inch coins before letting your children cut further.
Ingredients
sweet pototatos (approximately 1 lb)
6 medium apples (I like Cortland)
olive oil
salt and pepper
1/4 cup ground walnuts
1/4 cup maple syrup
1 tbsp melted coconut oil
Directions
Preheat oven to 350 degrees F.
Peel and dice sweet potatoes into 1 inch cubes.
Coat sweet potatoes with olive oil.
Roast potatoes on a parchment lined baking sheet.
While potatoes are roasting, wash, peel and cube apples.
Coat apple with lemon juice and olive oil.
Add apples to the same roasting pan as the sweet potatoes. Roast for 30 minutes or until both potatoes and apples can be easily pierced with a fork.
Transfer mixture to a bowl. Add the maple syrup and fork mash, or blend in a food processor or high powered blender to reach desired consistency. I'm a no lumps type of girl so I blend this. If you use the blender make sure to add some liquid (water, chicken stock or apple juice) to the bottom of the canister first to avoid any damage to the motor. You know your blender best, so choose the amount of liquid and setting that works best.
Add mixture to lightly greased baking dish.
Combine ground walnuts and coconut oil and sprinkle on top of potato and apple mixture.
Broil on low for an additional 5-10 minutes to brown the top.
Serve with any combination of other favourite veggies to round out your meal (see Brussel sprout recipe below).
Tip: Double this batch and make a freezer friendly side that's ready to go the next time you need one.
Brussel Sprouts
Ingredients
3 cups Brussel sprouts
1/2 lemon
1/4 cup dried cranberries
1/4 cup pecans (lightly chopped)
1 tbsp of coconut oil
salt and pepper to taste
Directions
Trim and wash Brussel sprouts. Cut length wise.
Simmer sprouts in 1/2 cup of water in cast iron skillet to soften. Be careful not to overcook.
Add coconut oil and sauté sprouts over high heat.
During last two minutes of cooking season sprouts with lemon juice, cranberries and salt and pepper.
Transfer to serving dish and add chopped pecans. Serve immediately.
Day 2: Quesadillas using Pork Tenderloin Leftovers
Depending on your family's appetite, you should have a good amount of meat left over. We usually have approximately 2/3 of the original quantity of cooked meat.
Ingredients:
1 jar of salsa (650 mL)
6 large tortillas
3 cups shredded cheese
nacho chips
Directions
Separate half of your leftovers from last night's pork tenderloin dinner and save for Day 3 Meal.
Thinly slice pork and set aside along with cheese and any other toppings.
Warm your tortilla in a lightly greased skillet and add cheese, sliced pork and salsa. Top with an additional layer of cheese and then a second tortilla on top. Press down evenly. Note: this grilled cheese preparation style is apparently an unconventional way to make quesadillas, but you don't have to worry about the tortilla ripping. To ensure that the contents heat evenly I usually place my kettle (at room temperature and filled with water) on top of the quesadilla to add pressure. This method totally works, I promise!
Once the cheese starts to melt flip the quesadilla in the pan and continue to heat through until golden brown on both sides.
Transfer to cutting board and allow to cool before slicing into wedges.
Repeat process for remaining quesadillas.
Serve with additional salsa, sour cream and nachos.
Day 3: Fried Rice using Pork Tenderloin Leftovers
With the remaining pork, make a quick fried rice using your favourite recipe. Always having a supply of frozen veggies like green beans, peas and corn makes this dish easier to prepare.
Looking for more tips to eliminate mealtime chaos? Read more about my suggestions for meal planning, batch cooking and meal prep parties or check out my last 3 Night Meal Plan.