Long days, long commutes and after school activities can create mealtime chaos. Meal planning is a great way to save time at the end of the day, but so is using your leftovers wisely. I'm sharing my go-to 3 Night Meal Plan using leftovers that relies on very little preparation and very few ingredients.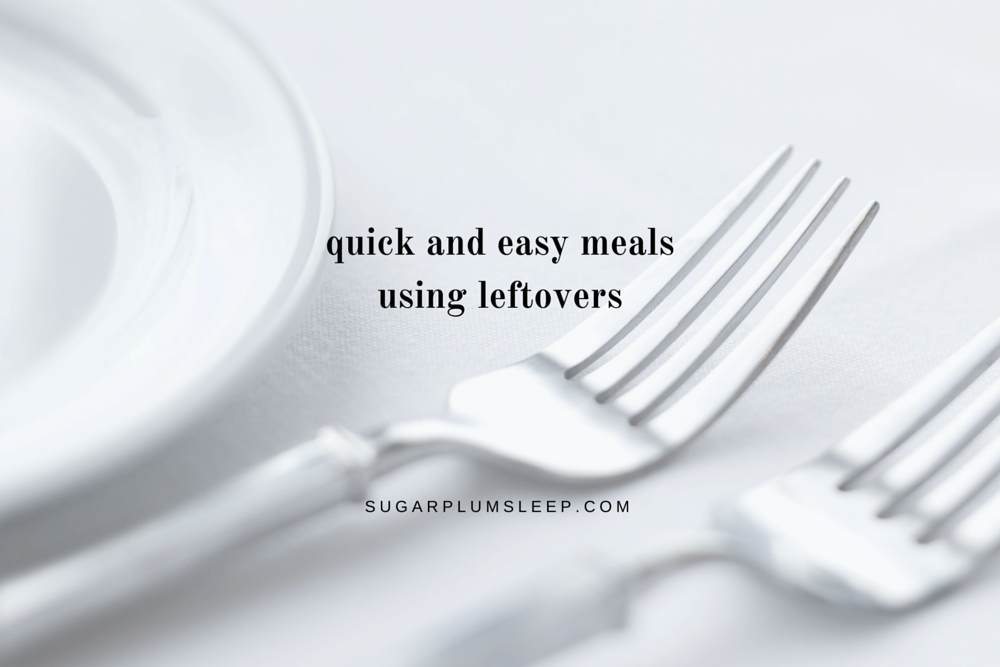 3 Night Meal Plan Using Leftovers
Day 1: Roast Beef Dinner
I make my beef roasts in the crockpot and always follow the "low and slow" rule. I also don't think it's necessary to spend a lot of time and effort in the preparation of the roast before I cook it. Read: minimal effort AND few ingredients. We are traditionalists and serve the cooked meat with potatoes and root vegetables.
Roast Beef
Ingredients: beef roast (approx. 4 lb.); bay leaves; salt and pepper; and water.
Thaw roast completely in refrigerator overnight or purchase fresh.
Add to crockpot along with one cup of water and 2 dried bay leaves.
Generously coat roast with salt and pepper.
Set the crock pot to cook on High for 1 hour, followed by 4 hours on Low.
Press start (I have forgotten this step in the past, so just making sure I've got your back).
Smashed Potatoes
My kids love helping out in the kitchen, especially if they are allowed to use a mallet. While I'm still partial to slow roasted potatoes, our daily schedule doesn't usually allow for a lot of opportunity to monitor the oven in the late afternoon.
Ingredients: mini potatoes (approximately 1 lb); olive oil; salt and pepper; and 1 cup of shredded cheese.
Rinse and drain mini potatoes. Do not peel. Coat with olive oil and season with either salt and pepper or a seasoning blend of your preference.
Bake on a parchment lined baking sheet at 350 degrees for 30 minutes. Once potatoes can be easily pierced with a fork, remove from oven and allow the baking sheet to cool.
Gently smash each potato using the flat side of a kitchen mallet. This is a great activity for kids.
Dress with shredded cheese. (Note: You will need shredded cheese for Night 2 of this meal plan, so now is a good time to shred some extra cheese).
Bake for an additional 5-10 minutes to melt the cheese.
Serve with any combination of other favourite veggies to round out your meal.
Tip: Trim fat and tease meat fibres to shred the leftovers before refrigerating.
Day 2: Tacos
Depending on your family's appetite, you should have a good amount of meat left over. We usually have approximately 2/3 of the original quantity of cooked meat.
Ingredients: 1 jar of salsa (650 mL); taco shells; your choice of toppings (shredded lettuce; sour cream; shredded cheese); and nacho chips.
Separate half of your leftovers from last night's roast beef dinner and reserve the remaining meat for Night 3 of the meal plan (see below).
Add meat to a large saucepan along with 3/4 of the jar of salsa and 1 cup of water or chicken stock. Reserve remaining salsa to use as dip for nacho chips. My favourite salsa is the Black Bean and Corn Salsa from President's Choice.
Simmer on medium/low for approximately 10-15 minutes (or until meat has softened and liquids have been absorbed).
That's it. Let the mixture cool and then assemble your tacos.
Tip: You can use the shredded meat and salsa mixture as a nacho topping as well. Spread evenly over nachos and cover with shredded cheese. Bake or broil depending on your melted cheese consistency preference. You can also freeze the cooked beef and use as a taco filling as a later date using the same steps outlined above.
Day 3: Beef Barley Soup
I tend to go rogue with my soups and just add what's left in the fridge and eyeball quantities, so I'll suggest that you check out All Recipes or Pinterest for recipe options.
Tip: You can substitute barley with quinoa for a gluten free option.
Looking for more tips to eliminate mealtime chaos? Read more about my suggestions for meal planning, batch cooking and meal prep parties.

I'd love to know how you're using leftovers. Share your favourite combinations in the comments below.