It's officially the middle of Summer and the boys have been home with me for most part. Having a dedicated space for them to have some quiet time has been critical for everyone's sanity. Just before school was over I took some time to carve out a small Lego table for them. This nook has undergone a number of transformations since we first moved into this house almost 10 years ago.
It Started Out as a Craft Corner
Before having children, this little nook was a craft corner. It was then converted into my office when I started The Sugar Plum Sleep Co. Last year when I deduced to focus more of my time and energy on my sleep coaching business I decided to move operations up to the main floor and let the boys use the work station for their own endeavours. As their interest and collection of Lego increased I knew it was time to dedicate the area solely to this activity. I scoured Pinterest for some inspiration and challenged myself to use existing items around the house to make this space work.
Reusing and Upcycling
The desk itself is actually two letter sized filing cabinets with a repurposed wooden door on top. The old door knob was removed and served as a grommet for electronics. The pegboard is also an existing element from when this was my craft corner. The only major expense incurred were the new goose neck lamps from CB2. Other elements added were the 3 clipboards, a handful of white lego blocks to create mini figure bases,the photo boxes to house current projects and the Lego base plates (1). I assembled some of the more colourful characters to be displayed on the clipboards thanks to some inspiration from Little Ruby Loves (2 and 3).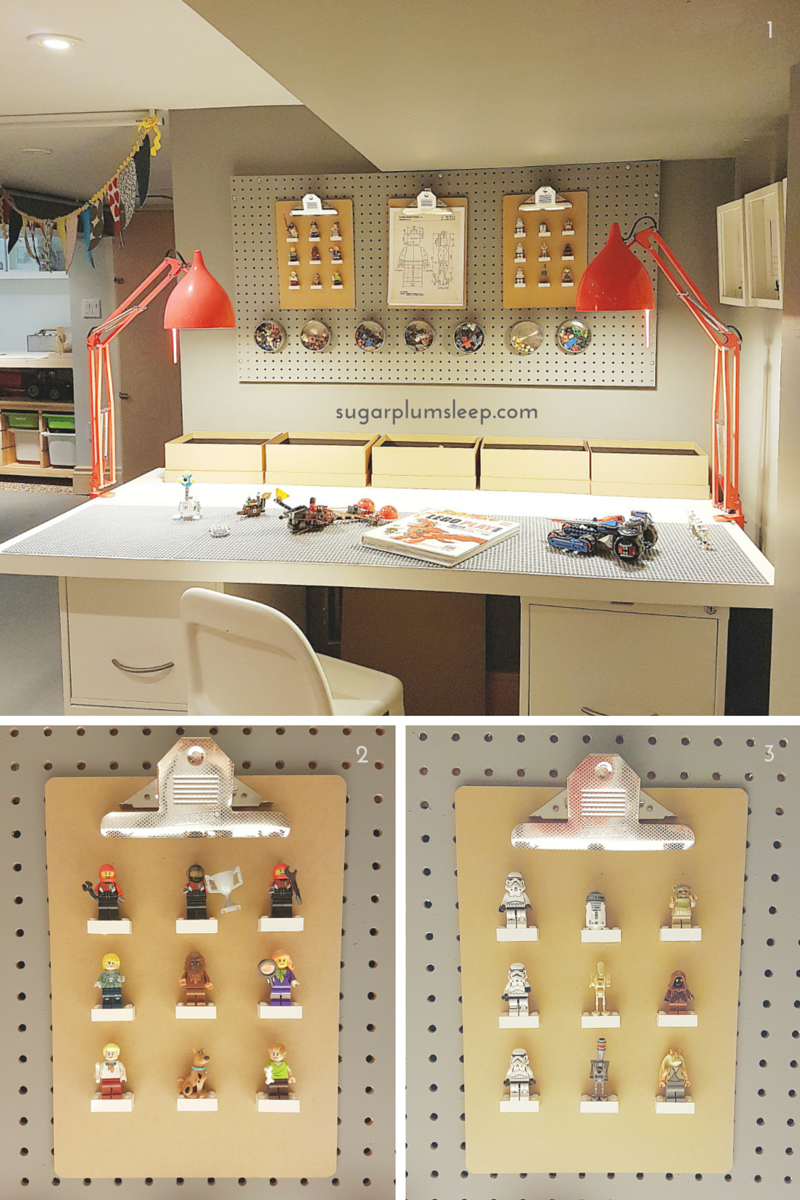 How to Organize Lego
I used existing shadow boxes from Ikea and added some quotes from The Lego Movie (1). The entire width of the desktop was covered in standard Lego base plates in grey (2). This makes it an ideal surface to create on. I also used small round magnets and a glue gun to strategically create spots in the peg board to attach metal spice containers. The intent was to store "special" pieces and figurines so that they would be easy to find (3). Perhaps the best surprise of this quick and inexpensive conversion was that some of our old and cracked Trofast plastic containers fit perfectly (and I mean perfectly) into the standard letter size filing cabinet drawers! There was also enough space behind the container to leave some hanging folders. Each folder has been designated for categories of Lego building plans and/or magazines.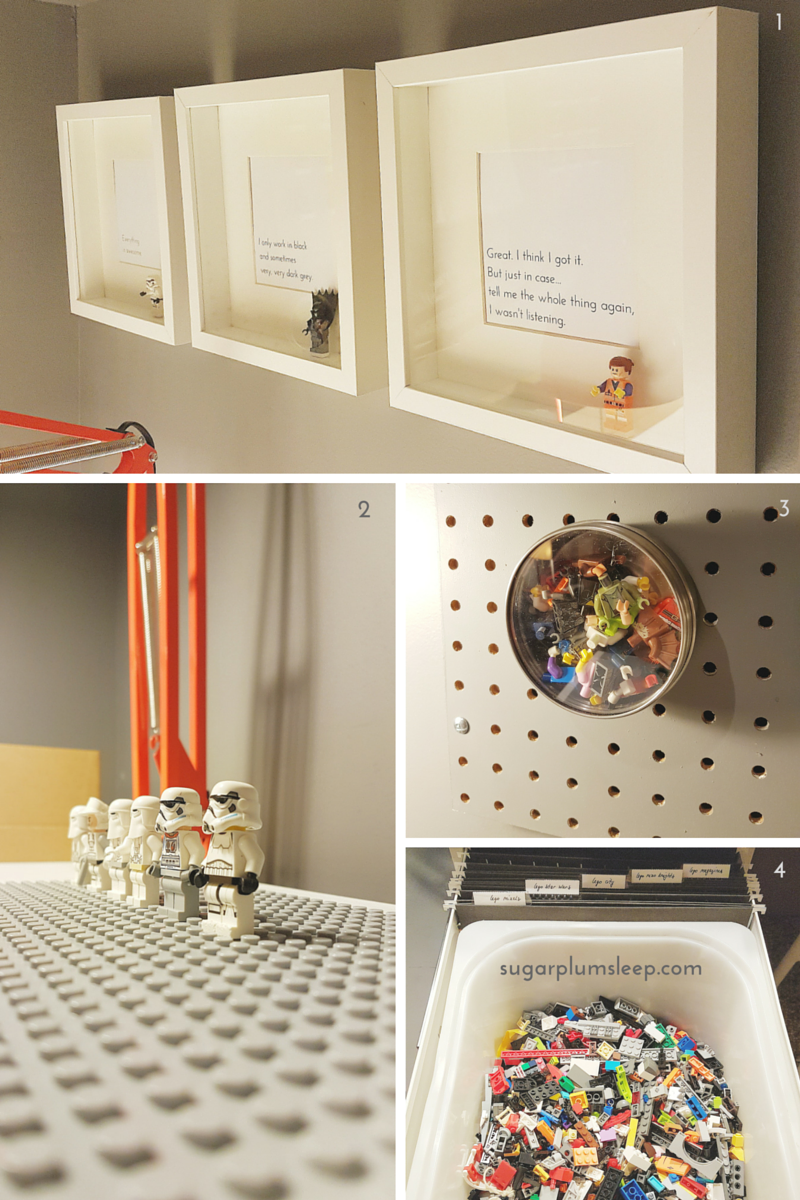 Needless to say the boys are thrilled with this new Lego Table. It's been a great place to hang out for a rest during the hot Summer afternoons and rainy days alike. I've love to know what you think or if you have any questions about this transformation took place!
Where are your children spending their quiet time this Summer?