The bedroom is supposed to be a safe haven to rest and rejuvenate from the day. From birth through five years, children require over 11 hours of sleep a day to support their mental and physical development.¹ That's a lot of hours spent in one room! A child's nursery can contain up to 300 chemicals, compared to just two outside their window.² Never mind the toxicants found in dust, plastics, clothing, and more. The number is alarming but as parents, we have the power to change the math. Learn how you can take some simple steps to make your child's room eco friendly.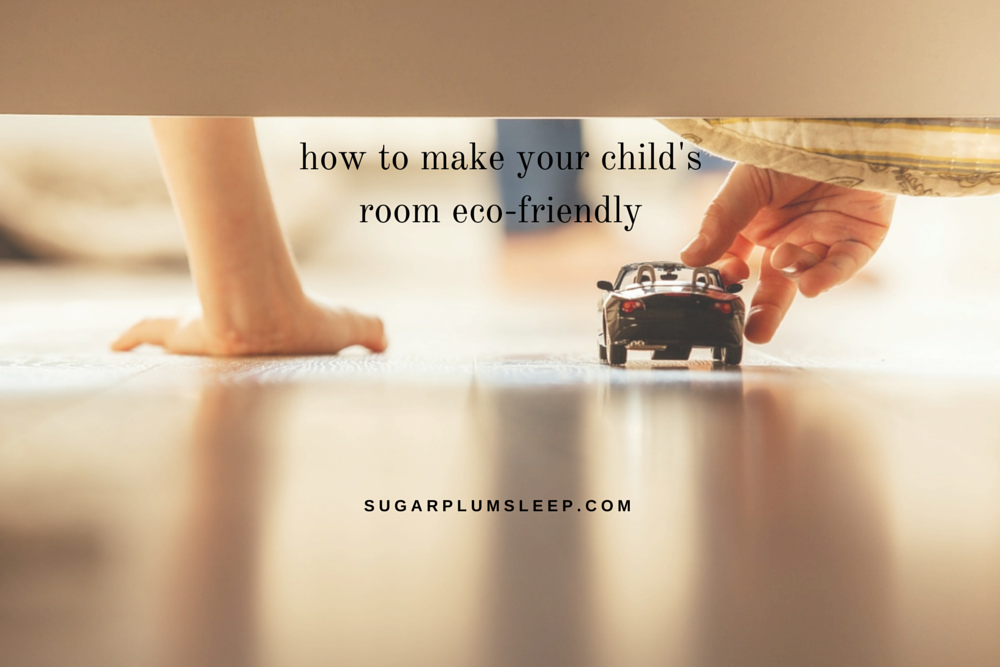 Five Tips to Make your Child's Room Eco Friendly
Opening bedroom windows on a daily basis is an easy way to circulate fresh air in your home and release indoor air pollutants.
Prioritize your child's mattress and bedding. Children spend a large percentage of their little lives sleeping. Look for an organic crib mattress or one that is GREENGUARD certified. If an organic mattress is not in your budget right now, cover the conventional mattress in a non-PVC cover and let it off-gas preferably outside of your home but definitely not in baby's room.
Bare floors are best for minimizing toxicities. If you do want a soft floor space consider a washable rugs in organic cotton or FLOR recycled carpet tiles. Vacuum carpets often with a HEPA vacuum to remove dust and dirt.
Swap out dusting products with microfiber cloths. They are a "grippy" material that can pick up dust and dirt with or without water. Dust mites can be a problem in the bedroom as they thrive on dead skin cells and their excrement can trigger allergic reactions.
Decorate simply. Choose unpainted wood toys and avoid harmful chemicals by sticking with organic textile materials like cotton and wool. Check that any painted or treated wooden toys are using non-toxic, lead-free paint and food-grade finishes. Swap out PVC vinyl wall clings for fabric-based decoration or choose gorgeous framed prints for a nature-inspired nursery.
It's not too late to make your child's room eco-friendly
Taking precautions will go a long way towards reducing the toxicities your child is exposed too. I swapped out my own son's mattress for an organic version when he was six months old. You can use my free Green Nursery Checklist as a guide to help you determine which areas to focus your efforts on.
Footnotes: